Google photos is a cloud storage-based application that uses Google Drive (to be effective from 1st June 2021) to store photos and other files in the cloud and you can access them whenever you want to. If your iPhone's iCloud storage is full and you did not have enough money to purchase more storage then you can use this service to migrate your iCloud to Google Photos is the best option for you.
Apple has recently launched a new web-based tool that allows user to move their iCloud photos to Google Photos. Earlier we have discussed how you can transfer your Facebook images and videos to Google Photos in easy steps. In today's post, I will give you the step-by-step guide to transfer your iCloud Photos and videos to Google Photos. Here's an overview:
iCloud to Google Photos:
Who is this for?
For Apple users who are running out of iCloud Storage.
For Apple users who will be migrating to Android very soon.
For those who just want to share photos with Android users conveniently.
The whole process is designed to make transferring iCloud photos to Google Photos quick and easy and it takes between 3-7 days to fully transfer the data. Once your data transfer is completed you will receive a notification on your mobile.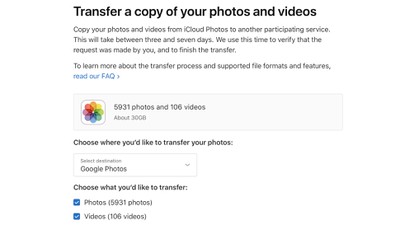 According to the apple support documentation, You can transfer your iCloud data to Google Photos via the "Transfer a copy of your data" option. If you go through all the steps, then apple will transfer the iCloud data to Google Photos.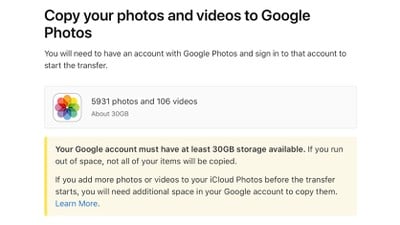 This process does not copy all types of files, Smart Albums, Live Photos, Photo stream content, some metadata, and some RAW photos are not able to be transferred, However it support almost every format including .jpg, .png, .webp, .gif, some RAW files, .mpg, .mod, .mmv, .tod, .wmv, .asf, .avi, .divx, .mov, .m4v, .3gp, .3g2, .mp4, .m2t, .m2ts, .mts, and .mkv are compatible.
if you have duplicate photos in your gallery then the latest version of the photo will be transferred to the Google photos rather than the older photos. Apple transfers the pictures along with albums, but videos are transferred separately.
Currently, this service is not available for every country it is only available for customers in Australia, Canada, the European Union, Iceland, Liechtenstein, New Zealand, Norway, Switzerland, the United Kingdom, and the United States at this time.
What are the Requirements to transfer iCloud data to Google Photos?
You have to have these services to transfer iCloud data to Google Photos.
Your photos and videos are already uploaded to Apple iCloud.
Your Apple ID uses 2-factor authentication.
You have an active Google account to access Google Photos and It has enough storage available to complete the transfer.
Here's How to Transfer iCloud Photos to Google Photos:-
Visit Apple's Data & Privacy webpage by click on clicking here.
Now login with your Apple ID to transfer data from your iCloud.
Select the "Transfer a copy of your data" option.
Select iCloud photos, Choose Google Photos as the transfer destination.
Confirm you'll have the required space in your Google Photos.
Now sign in to your Google account that you want to use for iCloud photos backup.
Allow Apple to add photos and videos to your Google Photos account
Click on the Confirm Transfer button to process the Transfer.
Note: According to Apple this process takes between 3-7 days to complete the transfer and once it is completed then you will receive a confirmation mail from google.
Frequently Asked Questions:
1. Does Transfer photos to Google Photos will remove the photos from iCloud?
Transferring photos and videos from iCloud Photos does not remove the content you have stored with Apple. but it provides a backup method and stores a copy of the content on Google ‌Photos‌.
2. How much Time did Apple Take to Transfer Data?
The Whole Data transferring process takes between 3-7 days. Apple will also send an email when the data transferring process is completed.
Last Words:
So this is the post about How to Transfer iCloud Photos to Google Photos? If you face any problem while transferring iCloud Photos to Google Photos then ask in the comment section we will happy to help you.
Thanks for reading. Do share this post with your Apple friends who were keen on using Google Photos, or migrating back to android. This will be helpful for them for sure.
Don't forget to join our Telegram Channel to get the latest tech updates. Keep visiting HiTricks