12% Club is an amazing investment and loan app, powered by BharatPe, that allows you to earn up to 12% interest on your invested amount. With the 12% club app, you can Invest & earn up to 12% when you save. Not only this but you can also take a loan from a 12% club anytime at the same interest rate of 12%.
When you invest money in this app you will get daily interest credit in your account and you can withdraw that amount any time you want. The return is better than Fixed Deposit and most of the stocks. So if you want a safe and secure way to grow your hard-earned money then this is the place you have to look for. Here's how you can get started with the 12% club app.
12% club is powered by the BharatPe app so you can trust its authenticity. The money is invested by their RBI-approved P2P partner LenDenClub. The money is lent to borrowers with good credit history and a strong CIBIL score. You can call it similar to the Cred Mint scheme, which allows CRED App users to invest their money which is then lent to other Cred users.
In today's post, we will look at the 12% Club App, and how you can get started with it. Here's an overview:
---
Before we begin, let me invite you to our Finance Discussion Community on Facebook: FinTalks. Here we share our experiences and discuss queries related to banking, debit cards, and credit cards, mutual funds, stock markets, and more. A lot of offers and discounts related to credit cards are also discussed here. Click Here to Join FinTalks.
---
How To Get Started With 12% Club App?
1. First of all Download the 12% Club app.
2. After that install and open the 12% club app on your smartphone.
3. Now you have to enter your mobile number and verify it with OTP.
4. Once verified you will get redirected to the dashboard of the app.
5. Now you can start investing money in the 12% club app. Here's how to do that.
How To Invest Money In 12% Club App To Get 12% Interest?
Disclaimer: Before you start investing money, here's a friendly disclaimer. This app invests your money into the P2P Lending Platform which puts your principal amount at risk. Proceed with caution and invest money only after you read and understand its implications fully. We won't be responsible for any unforeseen circumstances. Reach out to the respective customer support for assistance. Thank you.
1. First of all open the 12% club app and click on the add money button.
2. After that you need to link your bank account.
3. Now you have to click on Link Now and select your bank account from the list.
4. Once you find your bank account simply click on it.
5. After that you need to verify your Aadhaar with OTP.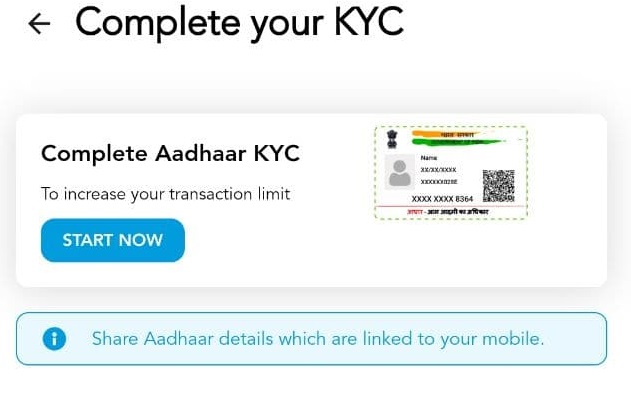 6. Once you complete your Aadhaar KYC you have to upload your Selfie.
7. Finally accept all the terms and conditions and after that, your account will get approved.
8. Now add money to your account and start earning up to 12% interest.
How To Borrow Money From 12% Club App?
1. The process is pretty much simple. You just have to open the app and go to the Borrow Money section.
2. Now they will check your credit history and based on your credit history you will get a loan amount in your bank.
12% Club App Refer and Earn:
For each successful referral, you will get 10% of your friend's earning and it will get credited to your bank 12% club account as monthly cashback credit. Isn't it interesting? So why are you waiting to open the app and grab your referral link? Now tell about this awesome app with your friends and family and let them grow their money as well. To get your own referral code to follow the below procedure.
Open the 12% club app and click on the Hamburger menu on the top right corner of the app.
Now click on Refer and Earn and copy your 12% Club App Referral Code.
There is no referring cap so you can refer as many friends as you can.
Frequently Asked Questions:
Is the 12% Club App Trusted?
Well, this app is powered by BharatPe which is a trusted merchant app for accepting payments in India. This definitely brings some credibility. Also, this app lends your invested money to borrowers with a strong credit profile, which minimizes the risks. Yet, it puts your principal amount at risk since you are giving out loans. Hence, the 12% club app cannot be considered 100% safe and risk-free, and we would definitely recommend not to put all your money in there.
If you ask my opinion, I am happy to park my idle liquid money (30-40-50k) that usually stays in my savings account for immediate use, into this app, to churn out some decent returns, which otherwise wouldn't be possible. Again I am not a financial adviser and this is NOT a recommendation, this is just what I would do. I won't risk my FDs or other safer instruments for this scheme.
What are the ways to add money to the 12% club account?
You can add money through UPI, Netbanking, Credit Card, Debit Card. There is no extra charge for using any of these methods.
How much Time It'll Take To Withdraw Money Into Your Bank Account?
In my case, I got money instantly in my bank account. However, it can take up to 24 hours to process your withdrawals. In case if it takes more than 24 hours then make sure to contact customer care or chat with them to get your issue resolved.
Is There any Withdrawal Charges?
No, currently there are no additional charges on withdrawals from the 12% club app.
How do I get eligible to borrow at 12%?
Upon your credit history, you will get how much loan you can take from the 12% club app. The higher the credit score you have the higher the credit limit you will get.
How Can I Repay The Borrowed Amount?
12% club app gives you loan amount for fixed 3 months only. Once the 3 months period gets over you need to deposit the Principal amount ng with interest amount from your registered bank account to your 12% club wallet. However, you can close your loan amount anytime without any prepayment penalty at all.
Conclusion:
So it was the post about the 12% club app. I hope you like this app and if you have any queries or doubts regarding this app then mail them at support [at] twelve [dot] club feel free to ask us in the comment section. We would love the help you.
Don't forget to join our FinTalks Facebook Group to stay updated with the latest financial matters in India, and get help with all your investment queries. Thank you for reading. I will be back soon with another interesting update. Keep visiting HiTricks. Don't forget to join our Telegram Channel for getting the latest tech updates.